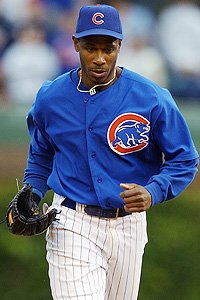 Posted by Lionel on July 30, 2009.
UPDATED (2:11 CT):
According to
John Heyman
of SI.com, the Cubs and Pirates are in serious discussions about
John Grabow
, but the Cubs may be looking to add a second pitcher. With the growing depth in the 'pen (and Hart struggling a little bit in today's game), I'd assume the second pitcher is a starter. That probably means
Tom Gorzelanny
(as mentioned
here first
), a former 14 game winner in the Bigs (2007) who has a 2.48 ERA in AAA this year. He would provide the Cubs with a left-handed starter than they are currently missing with Tedders on the D.L. The Pirates have full control over their current 5 man rotation, so they are unlikely to part with any of them (and the Cubs probably aren't going to want to have to pay in prospects for them).
By the way, I'm fully aware that I said the Cubs would call up Sam Fuld to replace ReJo. They will, they just chose to add another in recalling Jeff Stevens for now. Lou said on the radio pregame show that they could call up Fuld as soon as tomorrow. What may happen is that Fuld will replace Mitch Atkins.

Where's Kenny Lofton?
In case you haven't heard the news, Reed Johnson broke his foot and will be out at least a month. The immediate plan is to call up Sam Fuld, but he doesn't serve the long-term need, because he is left-handed (the Cubs need a righty who could play center to spell Fukudome and to be in the lineup against righties unless MB figures out how to hit left-handed).


Paul Sullivan suggests the name Cody Ross, the Marlins CF who has 14 HR's. But according to Alden Gonzalez of MLB.com, the Marlins are looking to add, not subtract.


Jeremy Hermida is also on the list...he's a guy who has been linked to Cubs rumors before, but doesn't fit the need for a 2nd CF.


Jayson Stark says the Cubs are only in the market for relievers and Fox Sports says the Cubs will stay in-house in replacing ReJo. They also say the Cubs are more interested in John Grabow than Joe Beimel.
Want to comment? Just click the post title above to join the discussion.