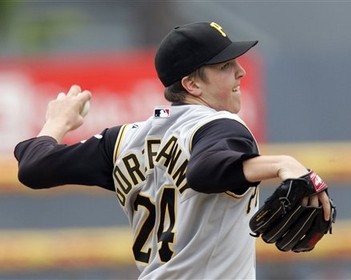 Posted by Lionel on July 30, 2009.
UPDATED: 5:21 PM CT
The Cubs have acquired Pittsburgh's
John Grabow
and
Tom Gorzelanny
. Grabow will be put in the Cubs 'pen immediately, while Gorzelanny will be sent to AAA.
In return, the Pirates receive Kevin Hart, Jose Ascanio, and Josh Harrison. Hart is the centerpiece of this deal, being ranked as the Cubs 6th ranked prospect before the season according to BA. Ascanio had a 3.52 ERA with the Cubs, 3.16 in AAA. Harrison was a 2-sack/3-sack, drafted by the Cubs in the 6th round of the '08 draft. He was hitting .327 between Peoria and Daytona this year with 26 stolen bases.

Basically, the Cubs gave up two relievers and a long-term prospect for a reliever and possibly the team's fifth starter (just because he's heading to AAA doesn't mean he won't be called up in a few days). Maybe the Pirates see Hart as a starter, but I think his greatest potential is in the 'pen.

This move makes a ton of sense for the Cubs. The Cubs had a plethora of right-handed relievers in their system and exactly 4 lefties on their 40 man roster...Lilly, Marshall, Cotts, and Jason Waddell. Lilly and Cotts are on the D.L., Marshall is already in the 'pen and Waddell has a .316 BAA vs. lefties. In addition, there is a logjam in the Cubs lower levels in the infield.
Would I have traded Kevin Hart for John Grabow? Probably, especially with the Cubs right-handed depth. Would I have traded Ascanio and Harrison for Grozelanny? Yes. So, these two for those three make sense.
As a final note, the Cubs essentially traded Freddie Bynum (traded for Hart), Jacque Jones (traded for Omar Infante who was traded with Will Ohman for Ascanio), and a 6th round pick.
Want to comment? Just click the post title above to join the discussion.