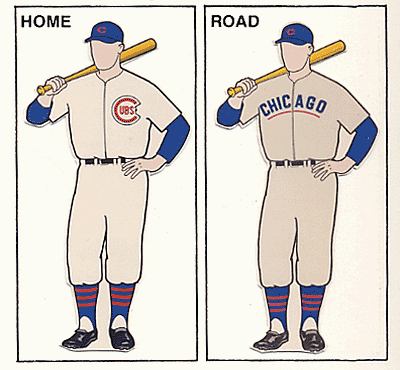 This afternoon's Cubs/Braves game will have a bit of a different feel to it. Not because the Cubs will be playing their first of many straight games without Soriano bunny-hopping around the outfield, but because the clubs are set to don 1948-style retro jerseys in the
first ever throwback game
at Wrigley Field. The team is really taking this thing a lot further than most clubs, and the details seem fairly cool:
The game should be a treat for TV viewers, who can watch the first two innings in black and white with fewer camera angles. The telecast will try to go without a center-field camera and use basic graphics at the start, and then add a camera or another technical advancement as the game progresses. Commentators Len Kasper and Bob Brenly will don appropriate 1948 garb in the booth.

Fans attending the game are encouraged to join Kasper and Brenly in dressing in 1948-style attire. The ballpark experience will have a classic feel, from music to scorecards to ingame and postgame activities. For the first hour after gates open, Kelly Eisenberg smokey links make a return for $1 a piece and select vendors will sell drinks in the stands for 75 cents.
Finally, I'd be remiss not to post this little entry from The Muskrat's mailbag. This is just a great sample of why her regular mailbag articles are among the absolute dumbest things on the interweb. It speaks for itself:
Could you please tell me what a "throwback" game is? Is it a game that does not count in the standings?
-- Rick H., Bourbonnais, Ill.

The game does count. The Cubs will play a throwback game on Thursday against the Atlanta Braves, the first such game at Wrigley Field. It's called "throwback" because the players will wear uniforms from the past. The Cubs will wear replica 1948 uniforms while the Braves will take part wearing uniforms resembling those of the 1948 Boston Braves.

WGN-TV will present a special broadcast of the game to commemorate its 60th anniversary. If you're going, and have any clothes in the attic from 1948, get in the swing. Broadcasters Kasper and Bob Brenly will be decked out in timely outfits.